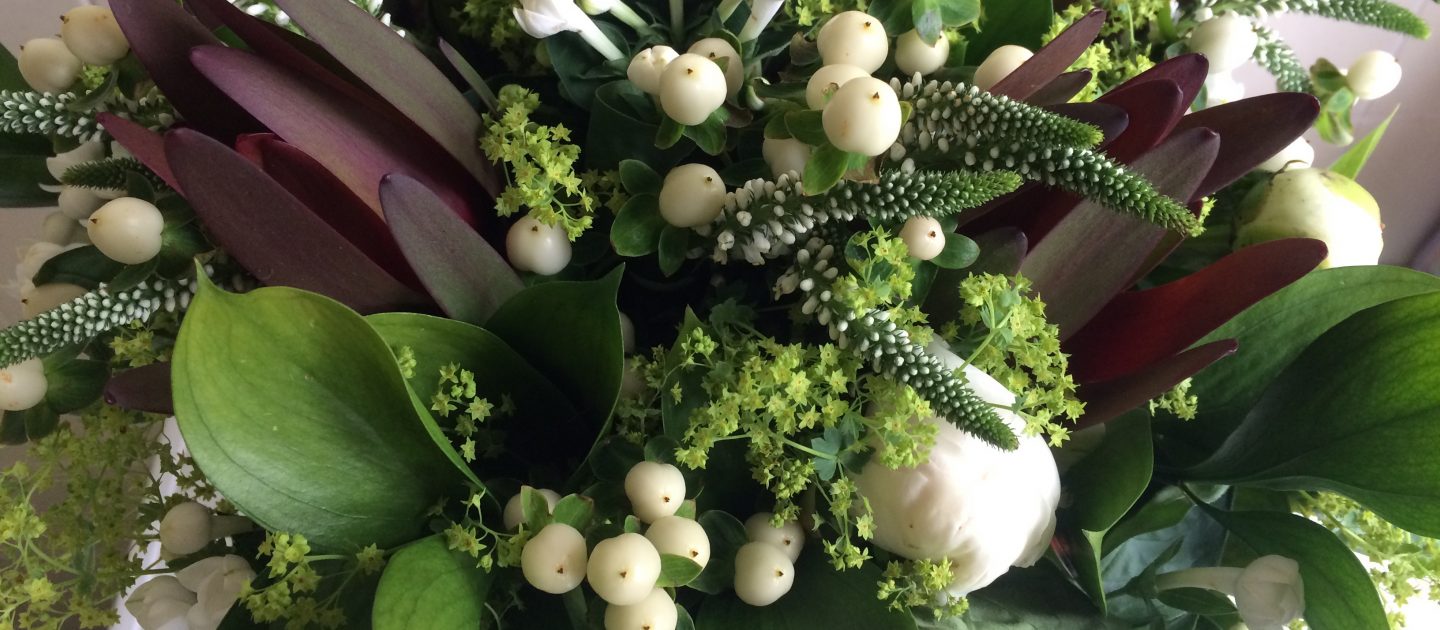 The first step in making a hand-tied flower bouquet is to strip away the bottom two-thirds of each stem. Handfuls of leaves and emerging buds – you just rip them off and chuck them.
It seems wasteful, at first. I always feel a pang of guilt, especially when working with foliage as elegantly sculptural as conebush.
But it has to be done. Leaves submerged in water rot, creating bacteria and pong. And the stems of a hand-tie need to form a neat, compact spiral.
'You don't need this, you don't need this,' I reassure myself as I pick up each flower and prepare to pull. It's like a mantra.
Soon the sink is full of leaves, wayward stems and buds. I have a bucket of gorgeous flowers drinking in water – and enough trimmings to fill two compostable kitchen waste bags. Nature is abundant. I'm standing in the laundry yet feel as though I've had a good, long walk in the woods.
'Flower arranging is like gardening,' says top florist and teacher Judith Blacklock. 'You forget all your problems pondering how to get the right flower in the correct place.'
Creative coping mechanism
The high-fliers attending Judith's Knightsbridge flower school say getting in touch with their creative side helps them cope with the pressures of their day job. 'Many in fact enjoy it so much that they decide to change profession and work with flowers,' she says.
Miisa Mink, entrepreneur, co-owner of Nordic Bakery and founder of the Driven Woman network, has found that flower arranging is a great way to set her intention for the week.
'Instead of just diving into my workload on Mondays, I now spend one whole hour cutting roses in my garden and arranging flowers for all the rooms around the house,' she reveals.
'I feel I'm much more productive for it, because I make better and more grounded decisions. It builds into my awareness of what is important in life, and thus I also make better, more conscious decisions. Flower arranging has become my treasured routine, not just something I wish I had time for.'
Flower arranging made easy
This is the second time I've made a hand-tied bouquet under Judith's instruction. The first was a morning class at the school, but now I'm going solo with a box of flowers and typed instructions delivered to my door.
It is, delightfully, easier than it looks. The seven species sent all have robust stems (beginners best avoid hollow-stemmed bulbs as they're too bendy) and were pre-selected to coordinate beautifully.
There's tight balls of peonies, graceful veronica, cute bouvardia. I love the irony of using hypericum in this soothing hobby – the plant is better known as St John's wort, and often recommended as an antidepressant. Kermit-coloured lady's mantle and bold, bushy hard ruscus will help bring the disparate shapes together.
The how-to of hand-ties
Judith's technique involves holding one stem (generally a round flower but I opt for conebush) upright in your non-dominant hand, then adding the rest one at a time so that they cross over the first stem and point towards your shoulder.
If you feel the bouquet's becoming a bit uneven, you add a stem to the other side, but cross it under your original stem, against your palm, so that it points away from you. But that's just for balance. Mostly, you keep adding stems over the ones you're already holding and towards the shoulder.
The hardest part is tying the arrangement with one hand – I have to lie it down on the floor, but no damage. Trimming the hard stems to an even length needs secateurs rather than my old kitchen scissors. Still, there's no worrying about how neat the spiral of stems looks at the base, because they were put in the ideal position in the first place, thanks to Judith's instructions.
When the bouquet goes back into the bucket of water for a drink, I keep looking at it, thinking: 'Hang on, that's actually quite good.' I post the results on Facebook for friends and family, and a few assume I'm embarking on a new career.
Gift that keeps on giving
There's my sister-in-law's birthday, a couple of friends who've recently given birth, a dance teacher to thank… but in the end I put the flowers in a vase (20cm high is ideal), out of direct sunlight, near our television. That way the whole family sees them everyday – for over two weeks.
The flowers seem to lift everyone's mood and research by Rutgers University and others suggests that's not just my imagination. Simply viewing nature can markedly improve many aspects of human health and development, according to a review of evidence in Oxford Academic's journal Health Promotion International.
Now making a bouquet is my solution to all social conundrums but more importantly I get why the Japanese regard flower arranging as a spiritual practice. It's where nature and humanity come beautifully together.