Herb salad with sprouted beans and seeds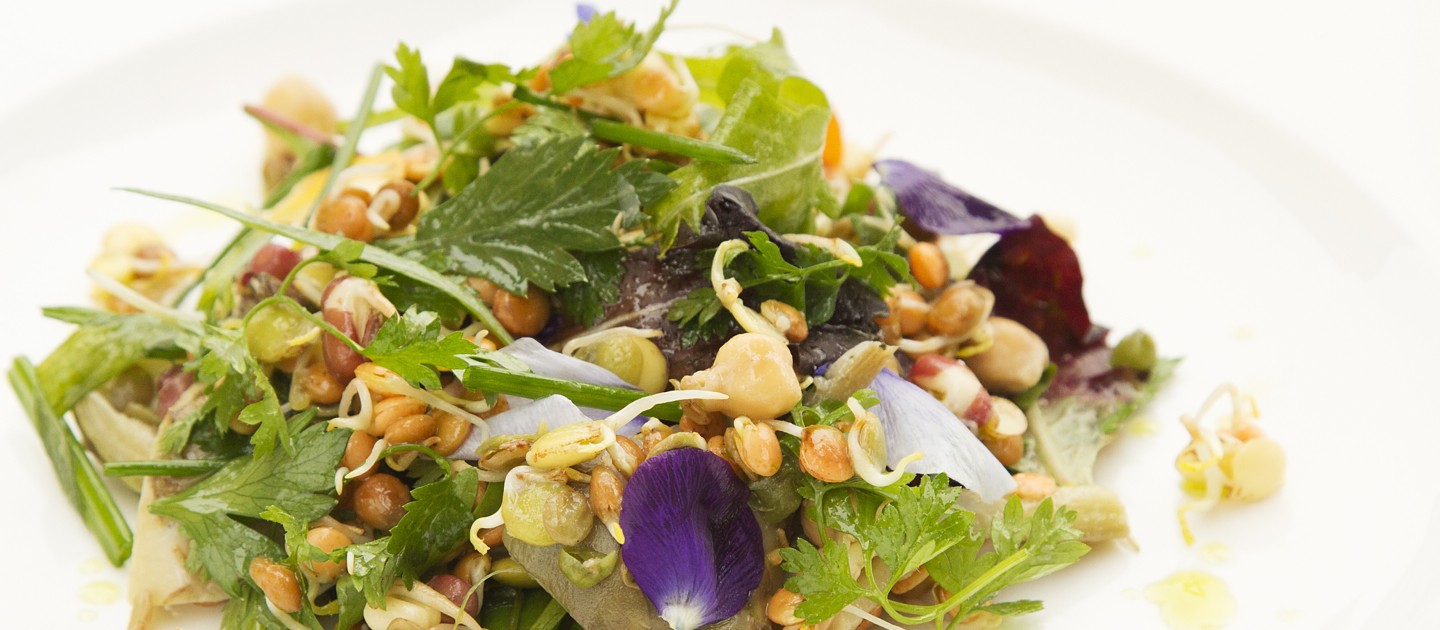 The best way to make a delicious salad of sprouts is to not put very many sprouts in it. Sprouted beans, peas and legumes are fabulously nutritious things but eating them by the handful will make anyone feel like a horse. What the human palate wants is a luxurious mix of textures, so the sprouts seem like gems amid the other ingredients. This wonderful combination from Company of Cooks gets the balance just right.
1

.

Make the chive oil
Bring a small pan of salted water to the boil. Add the chives and cook for 1 minute. Drain and refresh in ice-cold water. Drain again then spread the chives out on paper towel and pat dry.
Use a hand blender to blitz the chives and olive oil together in a beaker until smooth. Strain through a very fine sieve into a jug then pour into a suitable storage container. Store in a cool place for up to six months.
2

.

Make the salad
Drop the green beans into a small pan of boiling salted water and cook for 1 minute. Drain and refresh under cold running water then pat dry with kitchen paper.
Combine the spinach, parsley, chervil, dill, mint, spring onions, sprouted beans, toasted seeds and preserved lemon in a salad bowl.
Add the blanched beans and toss the salad. Drizzle with a little chive oil and sprinkle with petals (if using) just before serving.
Cook's notes
Mixing your own recipe? The failsafe rule is to add as many sprouts as you think you should eat, and then remove half of them. That way you'll have something lovely that you'd like to eat again soon. Don't even try to use the whole punnet. And afterwards, don't feel you must diligently work your way through the rest of the pack – chuck them as soon as they hit the use-by date, otherwise there is a risk of food poisoning. It's very important to wash bought-in sprouts before use too.