Quinoa bircher with dates and walnuts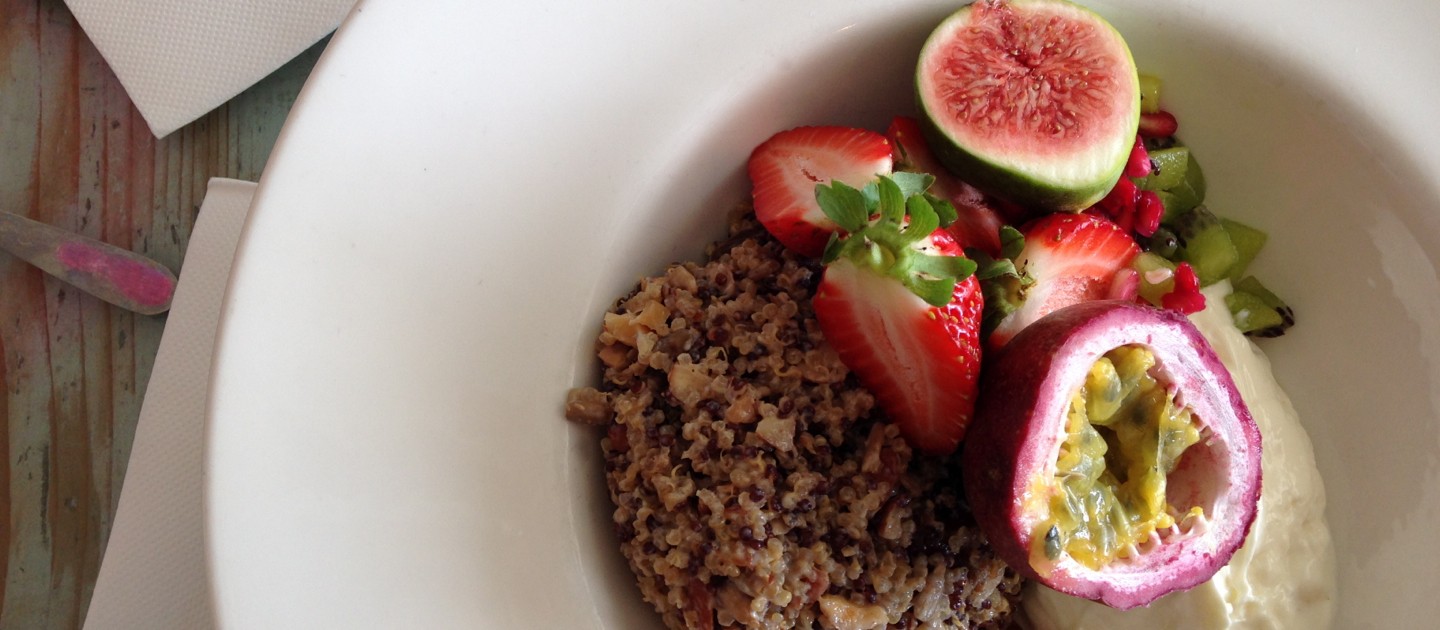 Can you hear a little whining sound? It's this gluten-free wholegrain twist on bircher muesli begging to be taken to work with you. The rich caramel-ly taste of dates, juicy grated apple, and toasted nuts, make it taste so luxurious the polystyrene cakes in the sandwich shop will soon seem like the pap they are.
This recipe is based on a breakfast staple at The Boathouse on Balmoral Beach, Sydney, an idyllic spot with a cool, nutrition-minded menu.
1

.

Cook the quinoa
Rinse the quinoa thoroughly in a very fine sieve then tip it into a saucepan and add 240ml of fresh water. Bring to a boil over a high heat then reduce the heat to low, cover and simmer for 8 minutes only.
Immediately turn the heat off under the pan and leave the quinoa to steam for a further 10 minutes (no longer or it will overcook).
Tip the grain into a mixing bowl and leave to cool (a wide bowl will help it cool down quicker).
2

.

Prepare the fruit
Grate the apples using the large holes of a box grater. Pour the lemon juice over and give a quick stir to prevent the apples' discolouration.
Split the dates open, remove the stones and chop the flesh.
Roughly chop the walnut pieces (you don't want dust) then lightly toast them in a dry pan until fragrant.
Once the quinoa is cool, stir the apples, dates and nuts into it, adding a splash of apple juice to moisten.
3

.

To finish
Scoop the bircher mixture into serving bowls or portable tubs and decorate with the yogurt and fruits.
Cook's notes
Ever noticed how exquisitely styled photos of healthy breakfast bowls always contain a rajah's buffet of luxury fruits? It's true we eat first with our eyes, but good cooking begins with good shopping, and that doesn't demand a host of expensive fruit garnishes with a short shelf life! Even the picture here features five varieties. In the real world choose what's good, fresh and affordable. Three fruits will be lovely, two will be great and one will be fine.
Having said that, medjool dates (or a similar quality variety such as deglet noor) are essential to give the bircher the right indulgent character. Don't use the less succulent dried dates that are intended for baking.