Spicy prawn and quinoa cakes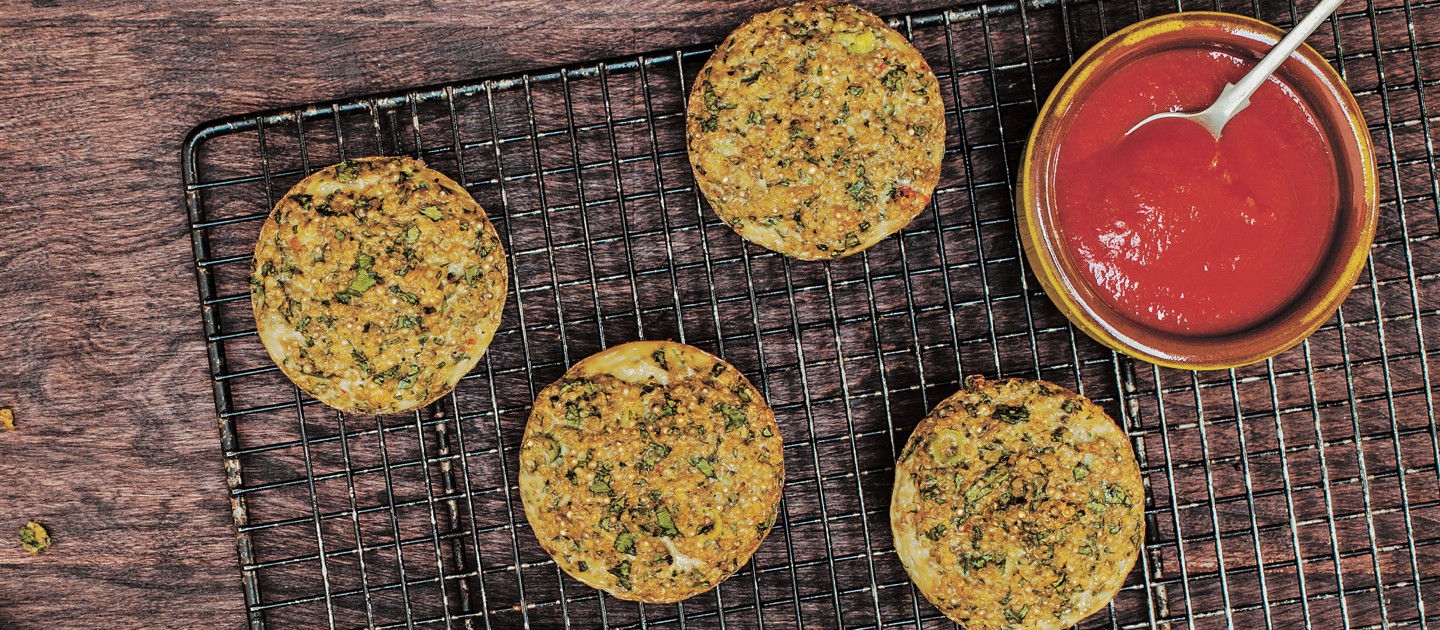 These muffinish, kofta-esque bites are healthy and satisfying but luxurious at the same time. They are great just as they are, or you could serve them with a salad and a dressing based on soy sauce or nam pla, or a creamy coriander and mint affair.
Using really plump green prawns here, and chopping them by hand, makes a terrific difference to their succulence.
When America's Roanoke Times tested this recipe for 12 Days of Good Eating they described it as a 'keeper'. Christina Nifong wrote: 'These were easy, yummy and totally different from anything I've ever made before.'
1

.

Cook the quinoa
Rinse the quinoa thoroughly in a very fine mesh sieve under the tap. Put it into a small saucepan with the stock. Bring to the boil then reduce the heat to low, cover and simmer for 8 minutes. Turn the heat off under the pan and leave the quinoa to steam for 10 minutes. Tip the cooked grain into a mixing bowl and leave to cool.
2

.

Mince the prawns
Using a large sharp knife, finely mince the prawn meat by hand (it will become too pasty if you use a processor) and add it to the bowl of cooled quinoa.
3

.

Prepare the batter
Finely chop the spring onions and add them along with the coriander, lime zest and Sriracha. Beat the eggs in a jug with plenty of salt and pepper then pour them into the mixing bowl and stir to make a thick batter.
4

.

Bake
Preheat the oven to 160°C fan/180°C/350°F/Gas 4. Grease the holes of a heavy cupcake tray with oil. Spoon the batter evenly into the holes and bake for 20-25 minutes, turning the tray halfway through cooking. The cakes are done when the tops and edges are browned and the cakes have come away from the sides of the cupcake holes.
Remove from the oven and leave the cakes to stand in the tray for 5-10 minutes before lifting them out with the help of a round-bladed knife and asbestos fingers.
Cook's notes
A bag of high quality peeled green prawns in the freezer is extremely handy for weeknights. Remember, though, that the prawns have protective ice glaze that melts on defrosting. When following recipes you usually need to measure the defrosted weight rather than the gross frozen weight.
If you have unpeeled green prawns start this recipe with 275-300g as the wastage is typically 55 per cent.
Try baking smaller versions of these cakes to hand round at drinks parties.
And replace the king prawns with crabmeat if you like.