Stir-fried pork with pak choy and oyster sauce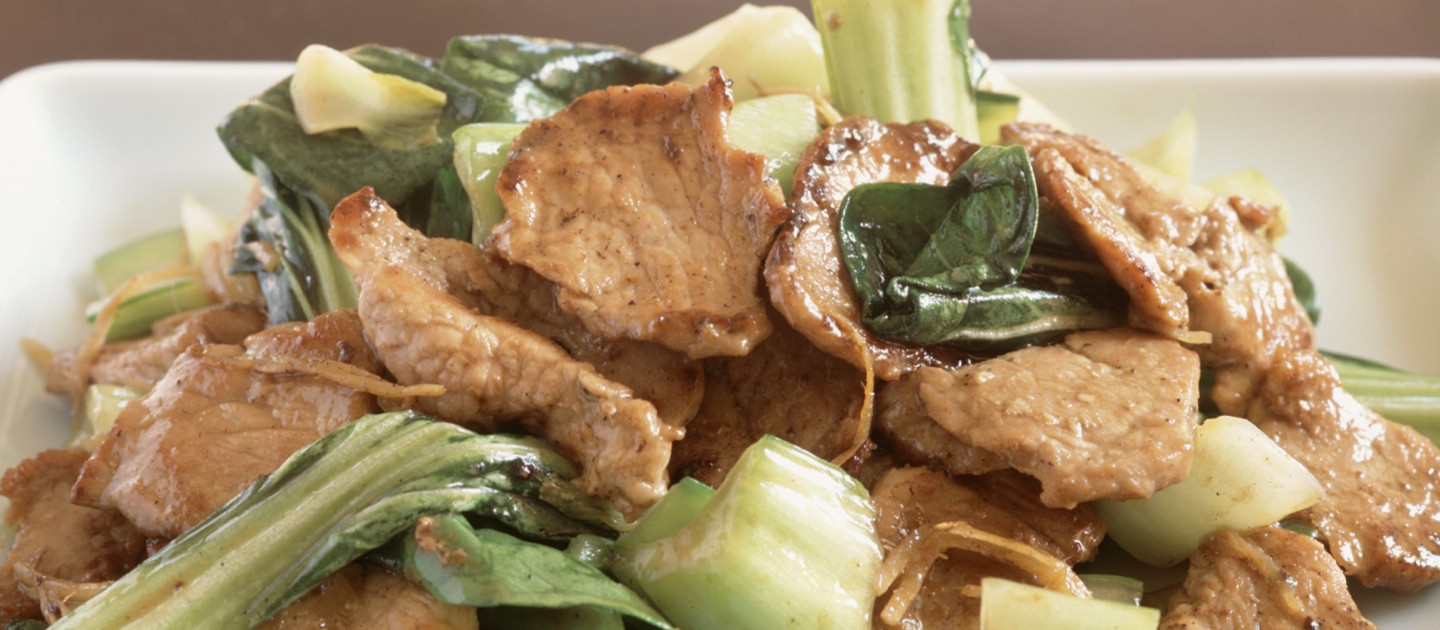 Most of the world's longest-lived peoples eat pork, but not much and not often. The pig's all-round affability with agrarian lifestyles is really why it's a favourite in areas such as the Blue Zones of Okinawa, Nicoya, Icaria and Sardinia.
However Dr Kazuhiko Taira has studied the health of long-lived people in Japanese communities for 20 years and concluded Okinawans suffer fewer strokes than people from northern Japan because the Okinawans eat more pork – and less salt.
No one's denying pork is a fatty meat in general but it does have health attributes – like being a great source of protein, collagen and B group vitamins.
It's about choosing the right cut. Fillet or tenderloin is especially lean and on par with chicken breast in terms of total fat content; pork sausages are not. Here's a great way to serve pork fillet.
1

.

Prepare and marinate the pork
Thinly slice the pork and put it in a mixing bowl with the rice wine or sherry, plus the soy sauce, sesame oil and cornflour. Stir so that the pork is evenly coated, then set aside to marinate for 15 minutes.
2

.

Prepare the vegetables
Meanwhile, trim the base of the pak choy and wash the stalks. Cut off the leaves and set aside, then chop the stalk into slices about 2cm wide and set them aside separately from the leaves.
Peel the ginger then finely shred it to give about 1 tbsp of strands. Finely slice the garlic.
3

.

Cook
Heat the vegetable oil in a wok. When very hot and slightly smoking, add the pork mixture and stir-fry for 2-3 minutes, or until brown. Remove the pork from the wok (a slotted spoon will help keep the juices in the pan) and set the meat aside.
Add the ginger and garlic to the wok and stir-fry for 1-2 minutes or until golden. Add the chopped stalks of the pak choy and stir-fry for 2 minutes, then add the leaves, oyster sauce and 3-4 tbsp water and continue stir-frying until the sauce is bubbling.
Return the pork to the wok and heat through with the pak choy for 1-2 minutes before serving.
Cook's notes
Simple steamed rice is the easy choice here – white or wholegrain as you prefer. You could also boil some dried egg noodles, then drain and toss them into the wok when you return the pork to the sauce. It won't look glamorous but it will be mighty satisfying.