Rye: the cool climate grain that's hot, hot, hot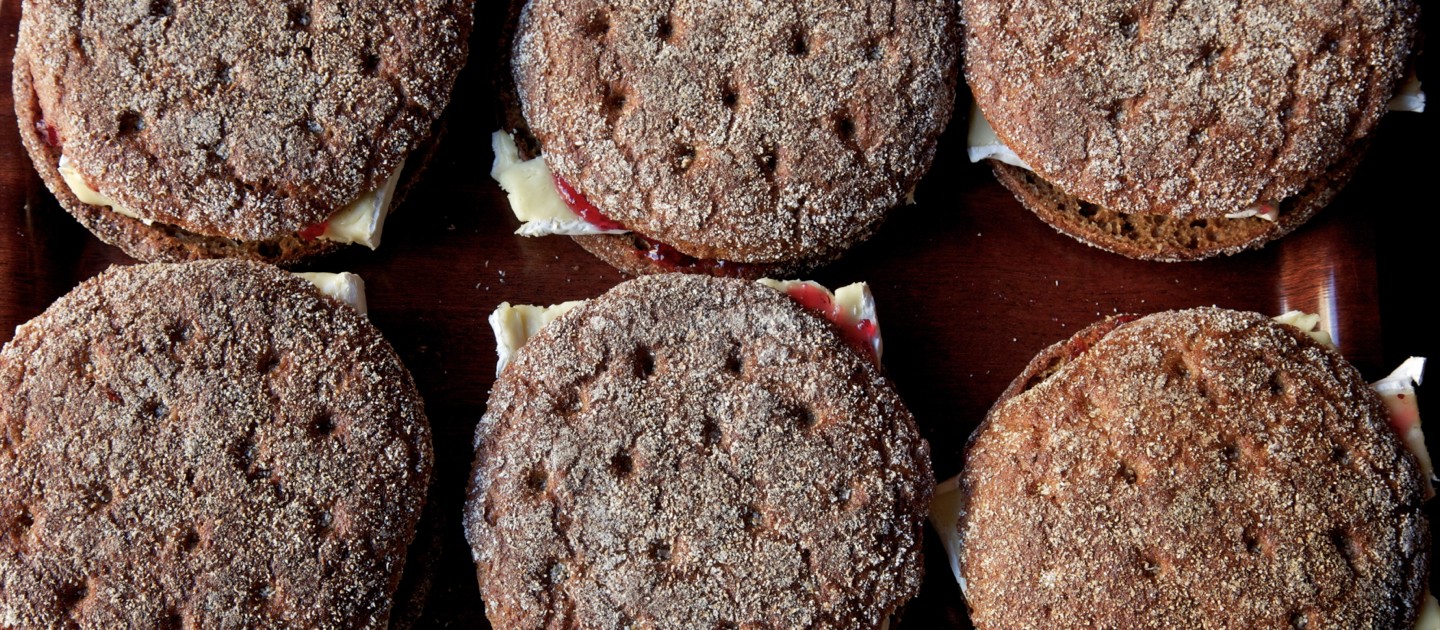 On Golborne Road, where Notting Hill clings to its former bohemian reputation, stylish Danish café Snaps & Rye opens at 8am to dole out flaky pastries and warming bowls of spice-scented øllebrød, traditional porridge made of rye bread and ale. It may seem an edgy choice but rye has such a following in London now – and the øllebrød is so delicious – that rolled oats by comparison seem a bit, well, flat.
Just look
Hipster coffee chain TAP features raspberry rye crumble bars on their cake counters
One of Paul A Young's most popular chocolate bars is Brick House Sourdough, made with the light Peckham Rye loaf
At Spring, Skye Gyngell serves rye crackers not just with cheese but with fresh crab and créme fraîche as a starter
Ollie Dabbous uses crumbled rye bread as a bed for main course barbecued beef with horseradish-flavoured buttermilk and pickles
It was pioneering lunchspot Nordic Bakery that made rye an everyday London sighting, with its dimpled rye rolls of smoked salmon and cheese, and rye-crusted karelian pies. Co-owner Miisa Mink, author of the Nordic Bakery cookbook, grew up in Finland where rye bread is the norm and salmon its happiest partner. Grilled or smoked salmon, with sour cream or cream cheese, plus dill and lemon, on rye bread is her go-to party starter. Rye bread with Jarlsberg cheese and sweet and sour cucumber pickles is another popular combination.
'We have some very creative ways of using leftover rye bread, too,' says Miisa. 'Garlic goes with it very well. You can make garlic croutons by frying bread pieces in garlic and olive oil then using them in salads or as a soup garnish. Or brush sticks of bread with chilli oil and bake them in the oven for 20 minutes.'
Tangy, sour rye and fiery chilli may seem a surprising combination but it's one also recommended by Maria Speck, the award-winning author of Simply Ancient Grains and Ancient Grains for Modern Meals. 'Tomato and rye risotto with cumin and chorizo is always a favourite in my house, especially in the cooler days of fall,' she says. Maria's leek salad with grilled halloumi and rye berries is another example of the cool climate grain working well with Mediterranean flavours.
'I love adding rye flour to pie crusts or using it in butter cookies where it adds character and complexity,' she says. 'The whole grain berries are divine combined with citrus, for example, in grain salads – rye's natural slight tanginess is the perfect match for sweet oranges or tangerines during the winter months.'
Warm weather, cool ingredient

Maria grew up in Germany 'where whole grains are part of the culinary fabric to this day', but it's not only in cold and temperate climes where rye is trending. In Auckland, New Zealand, Orphan's Kitchen has been wowing vegetarians and carnivores with plates of rye gnocchi and seasonally-changing vegetables, while over in sunny Sydney, esteemed chef Peter Gilmore of Quay serves an elegant dish of braised quail with coffee, rye, smoked chestnut, black garlic and prune.
'It was really about finding the right texture,' says Peter, who was looking for something to complement the juicy braised quail, the intense flavours of the sauce, and the liquidity of the smoked quail broth that is poured over the lot at the table.
For this dish he simmers whole rye slowly until soft, then dehydrates it at low temperature, and finally fries it in very hot oil so that it puffs and pops – like a posh restaurant version of rye Krispies.
'Crispy grains are beautiful,' says Peter. 'The puffed rye really works and has a lovely nutty flavour that is not as assertive as when rye is baked into bread.'
Simply more satisfying

Many scientific studies have shown that rye – whether enjoyed as bread, crispbreads or porridge – is super satiating. It makes you feel full and can help you eat less throughout the day, especially when compared to intake of refined wheat products. Also the more whole the rye is, the better it is for you: breads where you can see the kernels have been shown to hold off hunger longer than those made from milled rye flour – but even those provide far greater satiety than refined white wheat bread.
Then there's rye's positive effect on blood cholesterol levels, its very low glycemic impact, its cancer-fighting properties, the reduced mortality rates in men who consume it…
'My Mum had a great saying when we were kids,' says Kell Skött of Snaps & Rye: '"If you don't eat your rye bread, then you will grow up with sloping shoulders!" It gives an even energy throughout the day and our bodies are much more tolerant of it [than wheat].'
Snaps & Rye's øllebrød is made from their home-made rye bread soaked in non-alcoholic malt beer, which gives a wonderfully rich flavour perfect for chilly mornings. Orange zest adds an eye-brightening top note, and customers swirl on a half-and-half mix of milk and cream that makes the porridge taste far more indulgent than its health credentials might suggest.
'It's important not to make it too thick and gloopy!' says Kell. 'It is a classic Danish dish that will invoke lots of childhood memories among Danes living here in London, but øllebrød is unknown here, so it's nice for us to be able to give London a taste of something new and different to the usual breakfast porridge.'
Porridge, pastry, pumpernickel

A very easy way to add the health benefits of rye to your morning routine is to follow Nordic Bakery's porridge recipe, using 50:50 rye flakes to rolled oats. In the cafés, this is cooked with water but at home Miisa uses 75 per cent water to 25 per cent milk. 'It takes no longer to cook than plain oat porridge – just 3 minutes – but the longer you leave it, the nicer it is.'
She also suggests sneaking rye flour into home baking when appropriate. 'If you are making something that needs to be light and fluffy stay away from rye, but for more dense baking such as breads, pastries, tarts – even sweet ones – there is no reason you should not replace some of the wheat with rye. I normally recommend 30 per cent.'
So rye has much more culinary potential than pumpernickel ­– or indeed vodka and whiskey. If the last time you tried this cool climate staple was in a martini or manhattan, you're well overdue giving this fashionable whole grain a try.